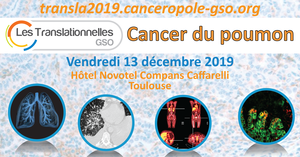 On December 13, 2019, the Cancéropôle Grand Sud-Ouest is organizing a training course on translational approaches in thoracic oncology in Toulouse (Hôtel Novotel Compans-Caffarelli).
This training is intended for young researchers and clinicians in the Greater Southwest. It is intended for lay people as well as researchers or clinicians wishing to increase their knowledge of lung cancer. Its objective is to promote translational research in thoracic oncology and collaboration in this area.
Each session will cover the fundamental and clinical aspects of the following themes:
- Immunotherapy
- Targeted Therapies
- New diagnostic & therapeutic tools
A round table with the day's speakers will close the training.
Accommodation and catering are provided by the Cancéropôle Grand Sud-Ouest, participation is free of charge. A deposit cheque is requested at registration and returned to participants during the training.
Free and mandatory online registration (places are limited).
A dinner with the participants and members of the Scientific Committee is organised on Thursday 12 December. Booking by email required (more information in the registration confirmation email)