Siric
>
Research
>
Institutes
>
Epsylon Laboratory
Epsylon Laboratory

Director: Florence COUSSON-GELIE
The Epsylon laboratory (EA4556) is a multidisciplinary unit dedicated to research in psychology, sport exercise, health prevention and non-pharmacological intervention studies, and gather researchers from the University Paul Valery Montpellier 3 and the University of Montpellier. It is composed of 46 lecturers/full professors, 4 hospital practitioners, 39 visitor researchers, 63 PhD students, 7 post-doc students, 2 engineers. The Epsylon laboratory associates researchers in health psychology (Cousson-Gélie et al.), clinical psychology (Carton et al.), psychophysiology (Trouillet et al.), cognitive psychology (Brouillet et al.), social psychology (Moliner et al.), work psychology (Gilibert et al.), neuropsychology (Gély-Nargeot et al.), psychometrics (Gernigon et al.), sport sciences (Ninot et al.), general medicine (Bourrel et al.), exercise physiology (Mercier et al.)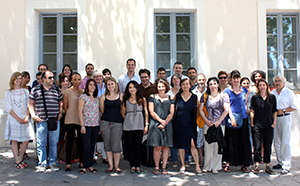 Five different research axes are included in the Epsylon lab named "Emerging cognitive and sociocognitive dynamics" (DynaCSE, team 1), "Cognition, emotion, communication and education" (CECE, team 2), "Evolution of the psychological determinants of health and disability according to the ages of life" (EVOLVE, Team 3), "Dynamics of appropriation of a chronic disease" (DAMC, team 4), "Conflict, commitment, ethics and society" (CEES, team 5).
The Epsylon laboratory notably aims to implement protocols of research in order to identify some of the psychological processes implicated in the adoption of health behaviors. Its workforce is one of the few French labs to have published results of randomised controlled trials in therapeutic education or cancer supportive care and prevention. The Epsylon lab is led by Florence Cousson-Gélie, Professor of Developmental and Health Psychology, who is considered as one of the French leader on health psychology and interventions in cancer primary prevention. Pr Florence Cousson-Gélie and the lab have recognized expertise in the design and implementation of intervention research projects in primary prevention of cancers on a large scale within the National Education institutions.
The research space covers 800m². This laboratory also has the required facilities given its role in the project (e.g., meeting rooms to discuss scientific valorisation and secure cabinets for store data questionnaires and interviews). Epsylon is also involved in the operation of reputed technical platforms i.e., CEPS – Assessment Centre of The Effectiveness and Cost/Effectiveness of Chronic Disease Management and Prevention Programmes), and Cancer Primary Prevention Platform in collaboration with Epidaure, the Prevention Department of ICM. In cooperation with the Languedoc-Roussillon Region's business development services, Epsylon has fostered 3 start-up companies in 2011. Every year, the Epsylon Lab secures about 400 k€ in new research contracts. It collaborates with research teams in biology and neurosciences, recognized research centres in Languedoc-Roussillon, with the Canceropole Grand Southwest, health companies, rehabilitation centres, human service companies, and patient associations.
Website