Siric
>
Research
>
Institutes
>
Institute of Human Genetics (IGH)
Institute of Human Genetics (IGH)
Director: Monsef BENKIRANE

General presentation
The Institute of Human Genetics UMR9002 (Institut de Génétique Humaine, IGH) is a major CNRS unit associated to the University of Montpellier, dedicated to excellence in fundamental research
and study of human pathologies.
Around 230 staff, students and postdoctoral researchers work at the IGH in 22 research groups, organized in three scientific departments:
Genome Dynamics
Genetics and Development
Molecular Bases of Human Diseases
Research objectives and scientific production
One of the major research areas is genome dynamics and epigenetic control. The main research fields are DNA replication and genome integrity, recombination and meiosis, the retrotransposition and its control, chromatin and nuclear dynamics, control of gene expression and RNA silencing.
Developmental genetics is another important research area. Exploiting a combination of model animal systems including Drosophila and transgenic mice, research themes include cell cy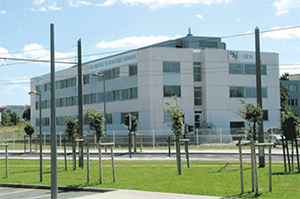 cle control of microtubule dynamics, gonadal development, RNA regulation, neurogenetics, memory and circadian regulation.
The third research objective at the IGH is to extend this research toward the understanding, diagnosis and treatment of diseases. This work concerns DNA metabolism, epigenetics and signaling in cancer (nearly half of the research groups), molecular basis of myogenesis, immunity, inflammatory pathologies, AIDS, neuronal degeneration and cellular therapies particularly the analysis of stem cell biology and viral vectorology.
The IGH publishes regularly more than 70 scientific papers/year in high-impact factor journals. The average impact factor of the Institute is beyond 6.5, one of the best in France overall. Every year, the best IGH publications land in Nature, Science and Cell press.
Facilities and platforms
The Institute is equipped with up-to-date material for developmental, molecular and cell biology and biochemistry. In addition, it has developed and maintains cutting e
dge facilities as well as important infrastructure to promote the most efficient and effective research. These include two bio-safety L3 laboratories, mouse, Drosophila and Xenopus facilities, a large imaging centre. This facility, called MRI – IGH, has an instrumentation park worth more than 3,000,000 €, including 3 confocal microscopes, ten top-level epifluorescence microscopes and a super-resolution fluorescence microscope that puts this facility at the absolute forefront in fluorescence imaging in France and in Europe. Finally, the IGH hosts IMGT, the international ImMunoGeneTics information system.
Valorisation and collaborations
Several of the laboratories of the IGH have filed patents, including the Méchali, Benkirane, Déjardin and Pasero/Moreaux groups. Teams at IGH have active collaborations with research institutes in Montpellier, in France and abroad.
Website