Siric
>
Research
>
SIRIC research programs
>
Treatment failure
Treatment failure
A wide range of skills
The TreatFail program aims at characterizing molecular and cellular determinants of cancer resistance to treatment, in order to identify new synthetic lethal interactions which could be exploited to overcome declared resistance or obviate its emergence. As a final aim we want to devise new therapeutical strategies to be tested in preclinical and clinical tests.
The development of this program relies on the existence of wide ranging basic and applied research teams in Montpellier with strong expertise in the fields of the regulation of cell cycles, of DNA replication, metabolism of tumour cells and cancer stem cell biology. At the same time, links woven with clinical teams allow stakeholders in the Program to be part of a dynamic transfer of coordinated clinician-researcher information.


The TreatFail program is coordinated by Pr Guillaume Cartron, PU-PH, Department of Clinical Hematology CHU Montpellier, and Dr Charles Theillet, team leader of the research group " Tumor identity and plasticity".
Scientific objectives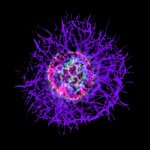 The great diversity of mechanisms governing the resistance of cancer cells has made it difficult to set up effective treatment strategies. It requires an intimate insight into the biology of resistance to define new parameters for predicting tumor responsiveness. Given the tightly woven interactions between intrinsic alterations, cancer stem cells/tumor-initiating cells (CSC/TIC) phenotype and treatment failure, we decided to address these questions jointly and, within the framework of the SIRIC, to assemble research and clinical expertise to tackle fundamental, translational and clinical aspects of this critical issue.
The work undertaken within this frame covers the impact of basic biological mechanisms such as cell cycle control, DNA replication, repair and recombination, cellular metabolism, the maintenance of cancer stem cell/tumor initiating cell phenotypes, in the emergence of resistance to treatment.
Our unifying objective is to ultimately propose new treatment modalities for these frequently incurable cancers. To this effect, we have structured our program around 4 working goals:
WP1 – Develop model systems
Search for molecular and cellular determinants of resistance to treatment of cancer cells is based on approaches combining experimental work and translational studies on patient material. It is our understanding that patient-based observations are essential, but must be developed jointly with hypothesis-driven work built on model systems. Ideally, model systems should both be flexible and modifiable according to experimental needs, and representative of "real cancer" as encountered in the clinics. These two qualities are difficult to reconcile. We therefore designed a strategy combining the use of cancer cell lines and primary tumorgrafts models maintained on immunosuppressed mice.
WP2 – Characterize molecular and cellular mechanisms linked to resistance
Genotoxic chemotherapies will likely remain in a foreseeable future a cornerstone in cancer treatment, in association with targeted therapies. Hence, getting a greater insight on response of cancer to genotoxic agents remains of the utmost importance.
Resistance to treatment is multifactorial. In the clinics two forms are commonly observed, intrinsic and acquired resistance. It is at present unclear whether they are comparable or must be assigned to different mechanisms. Whereas acquired resistance is tumor dependent and linked to the selection of genetic or epigenetic variants, mechanisms determining intrinsic resistance are more hypothetical, as they can correspond to a combination of tumor associated modifications and/or host dependent constitutional variations (SNP or CNV).
An increasing body of evidence points to the connections between response to treatment and altered cell cycle checkpoints and safegard mechanisms. In this work package our aim is to focus on two fundamental hallmarks of cancer cells; (i) altered survival pathways, (ii) defective cell cycle checkpoints. Both ultimately lead to genetic instability and metabolic changes. The importance of altered cell cycle signaling, DNA replication and intracellular metabolism is clearly illustrated in gene expression profiling studies which show a particular enrichment in genes involved in these processes in most aggressive cancer subsets. The goal of this WP2 is to explore these hallmarks of resistant cancer cells in the cell and xenografted models generated by WP1 using the very strong expertise of the Montpellier scientific community in these fields. This WP mainly concerns basic science work and proposes models to be applied on clinical material.
WP3 – Explore new strategies to tackle resistance
Our aim is to constitute a working group, with diverse but complementary expertise, that explores new directions in order to bypass resistance to currently used treatments. This WP will benefit from the tumor samples of WP1 and will be encouraged to test these novel strategies on WP1 cancer models.
WP4 – Deliver proof-of-concepts for early translation into clinical phase I/II trials
The final aim of this bench-to-the-bed-side oriented program is to translate findings into clinical benefit to the patients. To achieve this it will be mandatory to dispose of a structure dedicated to preclinical and early clinical trials of novel anti-cancer compounds. The cancer research community in Montpellier has already set the fundaments of such a structure with the establishment at the IRCM of a collection of primary tumorgrafts and the joint creation by the CHU and the CRLC of an Early Clinical Trial Center. Our objective, within the frame of SIRIC, is to create an integrated platform, where new drugs undergo preclinical tests in tumorgraft models and once validated may be considered for early clinical trials in the patients. Importantly, expertise cumulated within the working groups assembled in WP1, WP2 and WP3 will vastly improve the design and interpretation of the results of these tests.
Download