Siric
>
Research
>
Human and Social Sciences Research
Human and Social Sciences Research
Epidaure Prevention Centre

Epidaure prevention centre, the ICM's prevention department, is dedicated to cancer prevention and health education. It develops prevention and health education programs and actions for the general population.
Epidaure prevention centre promotes research projects aimed at scientifically establishing the effectiveness of innovative preventive approaches in the field of cancer. It is supported by the INCa, the SIRIC Montpellier Cancer, the Cancéropôle Grand Sud-ouest and the Regional Health Agency.
A multidisciplinary research team (public health, health psychology, epidemiology, pedagogy, health education, tobaccology, addictology) is responsible for the design and scientific evaluation of the programmes within its 3 areas of activity: primary prevention, therapeutic patient education and psycho-social factors of quality of life.
Contact: Pr Florence Cousson-Gélie, Scientific Director of Prevention Centre Epidaure: florence.cousson-gelie@icm.unicancer.fr
The Epsylon interdisciplinary laboratory studies the psychological and psychosociological mechanisms involved in human capacity building (Axis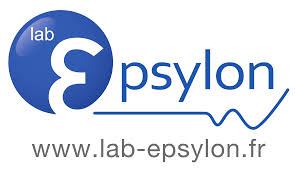 1) and the improvement of health behaviours (Axis 2) through methodologies based on Evidence Based Medicine and Evidence Based Psychology, in particular through longitudinal analyses and randomised controlled trials in order to contribute to innovations in non-drug intervention (physical activities, nutritional counselling, therapeutic education, psychological care, clinical, ICT health) and health prevention (identification of psychological factors associated with quality of life, personal development, psychological preparation, work organisation).
The laboratory combines several disciplines (in alphabetical order), general medicine, behavioural medicine, neuropsychology, nutrition, child psychiatry, general psychiatry, philosophy, psychology, public health and physical and sports activity sciences and techniques (STAPS).
The Epsylon laboratory has 5 research teams:
1/ DynaCSE team, Emerging cognitive and sociocognitive dynamics. Team leader:  L. Brunel, MCF-HDR
The scientific objective of the team is to characterize and model the complexity of individual-environment interactions and their emergent properties as manifested in the dynamics of cognitive (learning, perception, understanding, memory), emotional (anxiety, stress) and motivational (approach/avoidance) processes.
2/ CECE  team, Cognition, Emotion, Communication and Education. Team leader:  Pr N. Blanc
The team studies the cognitive functioning of children and young adults as they are engaged in a variety of language and/or graphic activities.
3/ EVOLVE team, Evolution of the psychological determinants of health and disability by age of life. Team leaders: Pr S. Raffard et Pr M.-C. Gély-Nargeot
The team is pursuing the objective relating to health behaviours apprehended at different stages of life by developing research in the field of somatic, psychiatric and neurodegenerative diseases. The aim is to understand and characterize psychological factors and processes underlying evolutionary trajectories and adaptive changes.
4/ DAMC team, Dynamics of chronic disease appropriation. Team leaders: I. Boulze, MCF-HDR et Pr G. Ninot
The team's challenge is to study the role of psychological and behavioural determinants in a person's adjustment to a chronic disease (e.g., eating disorders, physical inactivity, smoking, alcoholism).
5/ CEES team, Conflict, engagement, ethics and society. Team leaders  Pr S. Carton et Pr D. Gilibert
The team's work aims to deepen the psychological and/or intrapsychic factors involved in the health and/or psychological dynamics of a subject in the context of his or her environment, be it the work and institutional environment or the social and historical context that runs through the individual psyche and psychopathology.
Director of Epsylon Laboratory: Florence Cousson-Gélie, florence.cousson-gelie@univ-montp3.fr

Supportive care has large potential to enhance patient quality and quantity of life, and reduce costs associated with futile interventions in far advanced disease. Created in 2015, the ICM Supportive Care Department provides a full spectrum of services throughout various stages of the disease, including diagnosis, active treatment, end-of-life, and survivorship: addictology, pain management, nutrition, social support, psycho-oncology, adapted physical activity, physiotherapy, sexology, oncogeriatrics, alternative therapeutics, palliative care and end-of life management.
The objective is to enable the patient to receive comprehensive care that integrates his or her life, family, personal and professional projects, taking into account his or her well-being and local network. Support care providers accompany patients throughout their care journey. After treatment, they organise the link with local professionals (medical and paramedical).
Head of supportive care: Dr Pierre Senesse, pierre.senesse@icm.unicancer.fr
A COmité de REcherche en Soins de Support (CORESS) has been created to support teams wishing to develop projects in supportive care. The CORESS, by providing multidisciplinary expert advice, has the following missions in particular:
1. to define the strategy for research in supportive care,
2. to provide expertise or assistance to ensure the feasibility of projects,
3. ensure ethical, scientific and operational evaluation of proposed projects,
4. to promote interdisciplinary synergy.
Coordination of the committee is entrusted to Estelle Guerdoux-Ninot, Neuropsychologist at the ICM, Sophie Gourgou, Head of the Biometrics Unit at the ICM and Dr. Pierre Senesse, Head of the Supportive Care Unit at the ICM.

Biometrics Unit
The ICM Biometrics Unit is dedicated to providing clinicians and researchers with expertise in methodology, study design, data management and statistical analysis of basic, translational and clinical research in oncology.
Its methodological research missions aim to improve analyses and the quality of results through 3 major projects:
Longitudinal analysis of the quality of life
The development of recommendations for the definition of judgement criteria in cancerology (European projects DATECAN and DATECAN2)
Evaluation of new statistical methods for dose finding to optimize early trial design
Head of Biometrics Unit: Sophie Gourgou, sophie.gourgou@icm.unicancer.fr
Clinical and Epidemiological Research Unit of Montpellier University Hospital (CHU)
The mission of the Clinical Research and Epidemiology Unit of the Montpellier University Hospital is to assist in the development of clinical research protocols, to participate in the practical implementation of studies (logistical support, monitoring, data management and analysis) and to promote them.
The unit also provides methodological advice, expertise and training to clinicians and researchers.
Head of Unit: Dr Marie-Christine Picot, consult-methodo-dim@chu-montpellier.fr
CEPS Platform
The CEPS platform is a European academic hub of methodology experts in clinical non-pharmacological research whose mission is to foster the monitoring, design, implementation and publication of interventional studies dedicated to the essessment of Non Pharmacological Interventions (NPIs) efficacy.
This platform is one of the regional strengths identified in the framework of the 3S strategy with all its players, from academic research to clinical research, including the entrepreneurial fabric, innovation support structures and the mobilisation of patient representatives.
The platform is financed within the framework of the 2015-2020 State-Regional Plan contract and supported by SIRIC Montpellier Cancer.
The CEPS Collaborative Academic Platform has designed the Motrial search engine (Meta search engine for non-drug studies) to facilitate the identification of publications of intervention studies evaluating NMIs in cancer prevention or care. Developed with the support of the Institut National du Cancer (INCa) and SIRIC Montpellier Cancer, the numerical system lists publications of interventional or clinical studies evaluating the benefits and risks of NMIs aimed at preventing cancer, completing tumour treatments or avoiding recurrence. Aimed at researchers and clinicians, this unique system is freely accessible on www.motrial.fr.
Head of CEPS platform: Prof. Grégory Ninot, gregory.ninot@umontpellier.fr