Siric
>
Parternships
>
Competence centres
Competence centres
Rabelais BioSanté Pôle
The Rabelais BioSanté Pôle is a recognised authority for coordination between training and research in Biology and Health structures in Montpellier. Since its creation, Montpellier SIRIC has taken an active part in the dynamic development of the 'Cancer axis' and is a major player in one of the six themes of the Rabelais Pôle.
Grand Sud-Ouest (GSO) Canceropôle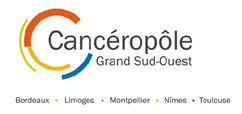 The Grand Sud-Ouest (GSO) Canceropôle is one of the seven cancer centres accredited by the National Cancer Institute (INCa) as part of the overall Cancer Plan. With an inter-regional and multi-disciplinary approach, it brings together nearly 500 teams of researchers and clinicians, mobilised against cancer throughout the country – the Aquitaine team in Bordeaux, the Limousin team in Limoges, the Languedoc-Roussillon team in Montpellier and Nîmes and the Midi-Pyrenees team in Toulouse. The Canceropôle shares expertise and know-how in order to create and strengthen research projects, and to accelerate the transfer of therapeutic innovation for the benefit of patients.
MAbImprove LabEx

Based on a partnership between the Universities of Tours and Montpellier, associated with INSERM, the CNRS, the INRA, the CHRU of Tours and Montpellier Cancer Institute, MAbImprove LabEx federates 13 research teams and more than 200 researchers. It is based on the complementarity of both sites, as well as on a national network of academic teams involved in the project and numerous pharmaceutical and biotechnology companies directly affected by fallout from the project. The MabImprove Labex aims to improve understanding of the pharmacology of monoclonal antibodies in humans.The purpose is to improve their use, improve their design and development and to develop the best.
The MAbImprove LabEx project is led by Prof. Hervé Watier (Tours coordinator) and Dr. André Pèlegrin (Montpellier deputy coordinator).
See also
ONCO-LR Network
The mission of the ONCO LR Network is to ensure coordination and the harmonisation of practices between different stakeholders involved in oncology in the Languedoc-Roussillon region. In particular the network undertakes the task of promoting improvements to the quality of cancerology and providing patients with information about the organisation of cancer care in Languedoc Roussillon.